Transform Your Look with These 7 Mesmerizing Chunky Glitter Makeup Ideas
Product Catalog
Regular Glitter Varieties

Fashion Glitter Varieties

Special Cosmetics Powders
Click Contact Us
Are you tired of the same old makeup routine? Want to add a bit of sparkle and pizzazz to your look? Look no further than chunky glitter makeup! This popular trend has taken the beauty world by storm, and for good reason. With endless possibilities for creativity and self-expression, chunky glitter makeup is a must-try for anyone looking to transform their look. In this post, we'll explore seven mesmerizing chunky glitter makeup ideas that will leave you feeling dazzling and inspired. Get ready to shine like never before!
Chunky glitter makeup has become one of the most popular beauty trends in recent years. While traditional fine glitters are still a go-to for many makeup lovers, chunky glitters provide an extra level of sparkle and dimension to any look. Chunky glitter is typically made up of larger pieces that reflect light differently than finer glitters, allowing you to create mesmerizing looks with ease.
You can use chunky glitter makeup as an accent on your eyes, cheeks, or décolletage for a bold and daring look. Whether you're heading to a music festival or simply want to add some glamor to your everyday routine, chunky glitter should be added into your regular makeup kit. Not only does it elevate any look but also adds some fun and creativity within the application process. Keep reading for tips on achieving perfect chunky glitter looks every time!
How to Create a Bold Look with Chunky Glitters: A Step-by-Step Guide
Chunky glitter makeup is a fun and bold way to add some sparkle to your look. Here's how you can create a mesmerizing chunky glitter makeup look in just a few easy steps.
Start by prepping your skin with a primer and foundation. Apply your usual eye makeup and lipstick.
Apply a chunky glitter adhesive to the areas where you want to add some sparkle. This could be your eyelids, cheekbones, or even your collarbone.
Using a small brush or your finger, gently apply the chunky glitter onto the adhesive. You can choose from different colors and sizes of glitter depending on the look you want to achieve.
To make sure the glitter stays in place all night, use a setting spray to lock it in.
Finish off your look with some mascara and lip gloss, and you're ready to shine!
With these simple steps, you can create a bold and glamorous chunky glitter makeup look that will turn heads wherever you go. Just remember to have fun with it and experiment with different colors and sizes of glitter!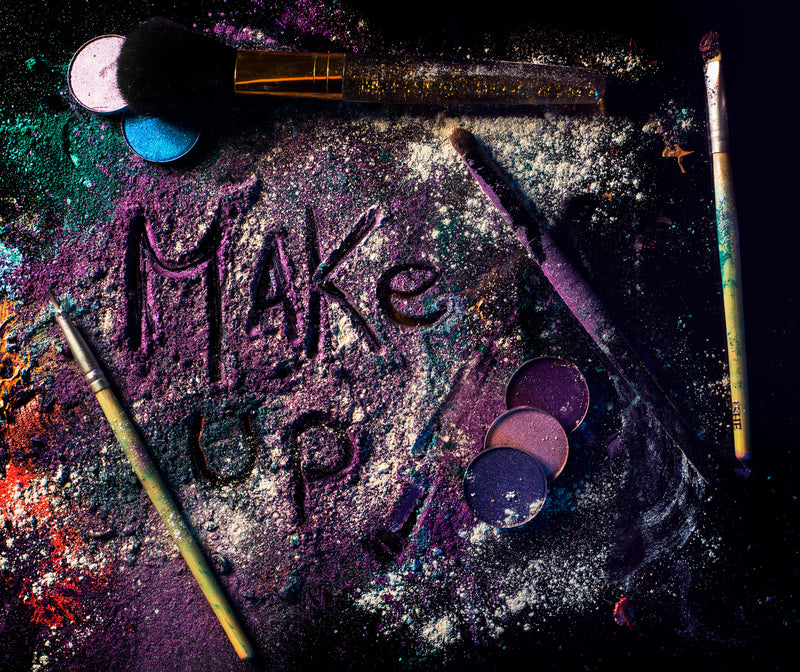 Highlight Your Beauty with These Gorgeous Face and Body Chunky Glitter Ideas
Adding chunky glitter to your face and body is a great way to add sparkle and shine, making you stand out from the crowd. To achieve this look, highlight your upper cheekbones with chunky glitters or apply them along your hairline for an eye-catching effect. For a more daring look, apply glitter around your eyes or on the lips.
When it comes to choosing products for creating chunky glitter makeup looks, there are many options available in the market ranging from loose glitters to liquid formulations. Some of our favorite products include NYX Professional Makeup Metallic Glitter and Chunky Glitter Gel Sets. These products will give you long-lasting wear without smudging or flaking.
The key factor in achieving an alluring chunky glittered look is not just about adding bits of shine here and there but rather finding ways to enhance natural beauty with that pop of extra sparkle. With these tips up your sleeve (and some shimmer on your cheeks), be ready to turn heads at any occasion!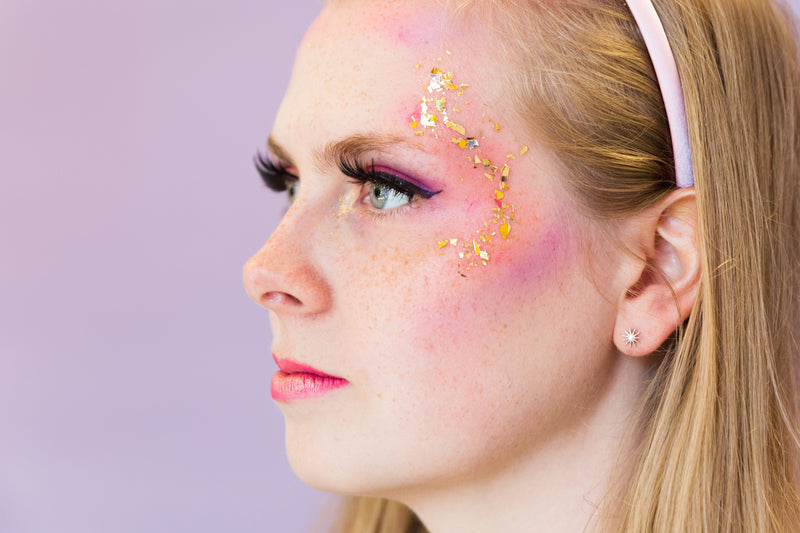 The Best Products for Achieving the Perfect Chunky Glitter Makeup Look
When it comes to chunky glitter makeup, using the right products is essential for achieving a flawless look. Look for glitters that are safe for cosmetic use and won't irritate your skin or eyes. One of the most popular options is chunky glitter gels, which come in different colors and textures. These gels are easy to apply and provide long-lasting hold without flaking off.
You can also opt for loose glitter powders, which offer more versatility in terms of color and texture combinations. To prevent fallout, make sure to dampen your brush with a setting spray before applying. Another option is pre-mixed jars of chunky glitters that already have adhesive built-in.
Biodegradable chunky glitters are another popular choice as they're eco-friendly and don't harm marine life or pollute waterways like traditional plastic-based glitters do.
Overall, the key to perfecting your chunky glitter makeup look lies in finding high-quality products that suit your needs and preferences – so feel free to experiment until you find what works best for you!
From Festivals to Parties: Where to Wear Chunky Glitter Makeup
From festivals to parties, chunky glitter makeup is the perfect way to add some sparkle and glam to your look. Wear it on your eyes or apply it on your cheeks, collarbones, or other parts of your body for a glamorous touch that will make you stand out from the crowd.
For festivals like Coachella and Burning Man, chunky glitters are a must-have accessory. Pair them with bohemian outfits and hair accessories like flower crowns and braids for a fun festival vibe. For more formal events like proms or weddings, use metallic gold or silver chunky glitters as accents for a chic look.
If you're not sure where to wear chunky glitter makeup, try experimenting at home first then build up your confidence before rocking it in public. Remember that confidence is key when wearing bold looks!
Pro Tip: When applying glitter to any part of your face or body make sure that you use cosmetic grade safe products only so no irritations appear!
Tips for Removing Your Glamorous Chunky Glitter Makeup at the End of the Night
Removing chunky glitter makeup can be quite challenging, but it's important to do it right in order to avoid irritating your skin or leaving stubborn glitters behind. Here are some tips to help you remove your glamorous chunky glitter makeup effortlessly.
Start by using a gentle oil-based cleanser or micellar water to dissolve and break down the makeup.
Avoid rubbing too hard on delicate areas like around the eyes or lips as this may cause irritation.
Use cotton pads or q-tips dipped in cleansing oil or micellar water for precise removal of glitters from small areas.
If there are still stubborn glitters left behind, use a piece of sticky tape to pick them up gently.
Rinse your face with warm water and follow with your regular cleansing routine.
With these tips, you'll be able to enjoy your mesmerizing chunky glitter makeup looks without worrying about how difficult they'll be when removing them at night!
In conclusion, chunky glitter makeup is a fun and glamorous way to shake up your beauty routine. Whether you want to add sparkle to your eyes or make a statement with bold face and body glitter looks, there are endless possibilities. With the right products and techniques, anyone can achieve stunning results with this trend. Just remember to have fun experimenting with different ideas and don't be afraid to try something new! And when it's time to take off your chunky glitters at the end of the night, use our helpful tips for an easy removal process. So get ready to shine like a star with these mesmerizing chunky glitter makeup ideas!
Questions
Question: Who can wear chunky glitter makeup?
Answer: Anyone can wear chunky glitter makeup, regardless of gender or skin tone.
Question: What types of chunky glitter makeup are available?
Answer: Chunky glitter makeup comes in various forms such as loose glitter, pressed glitter, and glitter gels.
Question: How do I apply chunky glitter makeup?
Answer: Apply chunky glitter makeup with a brush or your fingers. Use a glitter adhesive to make it last longer.
Question: What if I have sensitive skin?
Answer: Look for chunky glitter makeup that is hypoallergenic and free of harsh chemicals to avoid irritation.
Question: How do I remove chunky glitter makeup?
Answer: Use an oil-based makeup remover to gently remove chunky glitter makeup without irritating your skin.
Question: What if I'm not comfortable wearing bold makeup?
Answer: Start small by using chunky glitter as an accent on your eyes or lips, and gradually build up to more bold looks.
Related Posts