Glam Up Your Look: The Ultimate Guide to Glitter Eyeshadow
Product Catalog
Regular Glitter Varieties

Fashion Glitter Varieties

Special Cosmetics Powders
Click Contact Us
Are you tired of the same old neutral eyeshadow looks? Do you want to add some sparkle and glamour to your makeup routine? Look no further! In this ultimate guide, we'll explore a trendy and fun way to elevate your eye makeup game. Get ready to shine with our tips and tricks for creating the perfect glitter eyeshadow look. Whether you're a beginner or an experienced makeup enthusiast, we've got you covered. So, grab your brushes and let's get started!
What is Glitter Eyeshadow and Why You Need It in Your Makeup Bag
Glitter eyeshadow is a makeup trend that has taken the beauty world by storm. It's a fun and playful way to add some sparkle to your look, whether you're going out for a night on the town or just want to add some extra glam to your everyday makeup routine.
But what exactly is glitter eyeshadow? It's a type of eyeshadow that contains small particles of glitter or shimmer, which reflect light and create a dazzling effect on the eyes. Glitter eyeshadows come in a variety of shades and finishes, from subtle golds and silvers to bold pinks and blues.
If you're looking to update your makeup bag, glitter eyeshadow is definitely worth trying out. Not only does it add some fun and excitement to your look, but it can also make your eyes appear brighter and more awake. Plus, with so many different shades and finishes available, there's something for everyone. So why not give it a go and see how it can elevate your makeup game?
Top 5 Glitter Eyeshadows to Try Right Now
Glitter Bomb by Too Faced is a highly pigmented eyeshadow that delivers intense sparkle with just one swipe. It comes in a range of shades from classic gold to bold blue.
For a more affordable option, Glitter & Glow Liquid Eyeshadow by Stila is a cult favorite. The liquid formula dries down quickly and stays put all day without creasing or flaking.
If you're looking for a multi-dimensional glitter, try Moondust Eyeshadow by Urban Decay. The microfine glitter particles catch the light beautifully and create a stunning holographic effect.
For a more subtle shimmer, check out Shimmering Skin Perfector Pressed Highlighter by Becca. This highlighter can be used on the eyes or cheeks for a soft, luminous glow.
Finally, Glitterally Obsessed Glitter Gel by ColourPop is perfect for adding some sparkle to your lower lash line or inner corner. The gel formula is easy to apply and comes in a variety of shades to match any look.
How to Apply Glitter Eyeshadow Like a Pro: Step-by-Step Tutorial
Glitter eyeshadow can be intimidating, but with the right technique, you can achieve a glamorous look that will make your eyes pop. Before starting, make sure to have an eye primer on hand, which will help the glitter adhere better and prevent fallout.
Step 1:
First things first, apply a matte transition shade onto your crease using windshield-wiper motions. This will create depth and dimension in your eye look.
Step 2:
Now it's time to add some glitter! Using a flat brush, pack the glitter onto your eyelids, starting from the inner corner of your eyes and working outwards.
Step 3:
To blend out any harsh lines or edges, use a clean blending brush with no product on it. Gently sweep back and forth until everything looks seamless.
Step 4:
Finish off by curling your lashes and coating them with mascara for an extra dramatic effect.
Remember to take it slow at each step so that you can build up opacity without overwhelming yourself with too much glitter all at once. With this simple tutorial in mind, you'll be ready to rock those sparkly lids like a pro in no time!
Best Eye Primers for Long-Lasting Glittery Looks
Eye primers are a crucial step in achieving a long-lasting glittery look. Choosing the right eye primer can make all the difference in preventing creasing and fallout. Look for primers that are specifically formulated for glitter eyeshadows, as they tend to have a tackier texture that helps the glitter adhere better to the lid. Some popular options include the Too Faced Glitter Glue and the NYX Glitter Primer.
Another important factor to consider is prepping your eyelids before applying primer. Make sure your lids are clean and free of any oils or moisturizers, as this can cause the glitter to slide around. You can also set your primer with a neutral eyeshadow shade to create a smooth base for your glitter.
Remember, using an eye primer is not only beneficial for glitter eyeshadows but also for any eyeshadow look you want to achieve. It helps to intensify the color and longevity of your eyeshadow while preventing creasing and smudging throughout the day.
Tips and Tricks on Making Your Eyes Pop with Sparkly Shadows
Glitter eyeshadow can add glamour to any look, but it's important to apply it correctly for a stunning effect. First, start with clean and primed lids; this will make the shadow last longer without creasing or fallout. To ensure the glitter stays put in place throughout the day, use a tacky base like a glitter primer. Blend out your colors first before applying "loose" glitters since they might fall out of place.
If you're new to glitter shadows, don't worry! A sheer wash of shimmer over your eyelid would do wonders! For more drama, build up from there by adding other shades as needed till you find the perfect balance for your eyes' coloration.
To make your eyes appear bigger and brighter with sparkly shadows: highlight inner corners of both upper lids to draw attention inward – use lightest shade(s) for highlights – pair neutral tones (like beige or taupe) against darker hues such as navy blue or emerald green – follow natural eye shape when blending into creases avoid going too high above brow bones
Remember that less is always more – no need to go crazy; Practice makes perfect -mastering this fun makeup trend takes time so keep experimenting and finding what works best for you!
How to Match Your Outfit with the Perfect Shade of Glitter Eyeshadow
When it comes to matching your outfit with glitter eyeshadow, there are a few things to keep in mind. First, consider the occasion. If you're going to a formal event, a more subtle shade like champagne or rose gold would be appropriate. For a night out with friends, go bold with shades like silver or blue.
Secondly, bold colors can clash with certain outfits, so it's important to choose complementary shades. If you're wearing warm tones like red or orange, opt for gold or bronze glitter eyeshadow. If you're wearing cool tones like blue or green, try silver or purple.
Lastly, don't forget about the rest of your makeup. Bold glitter eyeshadow pairs well with neutral lips and cheeks, while more subtle shades can be paired with bolder lip colors.
Remember, there are no hard and fast rules when it comes to makeup and fashion. Experiment with different shades and combinations until you find what works best for you and your personal style.
Bold vs Subtle: Which Look Suits You Best?
Bold key phrases: Bold vs Subtle
When it comes to glitter eyeshadow, there are two main approaches: bold and subtle. The bold look involves using bright, eye-catching shades that make a statement. This look is perfect for a night out or a special occasion where you want to stand out. On the other hand, the subtle approach involves using more muted shades that add just a touch of sparkle to your eyes. This look is great for everyday wear or when you want to add a little something extra to your makeup without going overboard.
When deciding between bold and subtle, consider the occasion and your personal style. If you're feeling daring and want to make a statement, go for bold glitter eyeshadow in shades like gold or silver. If you prefer a more understated look, opt for subtle shades like champagne or rose gold.
Remember, there's no right or wrong way to wear glitter eyeshadow. It's all about finding what works best for you and your unique style. So whether you choose bold or subtle, have fun experimenting with different shades and techniques until you find the perfect look for you!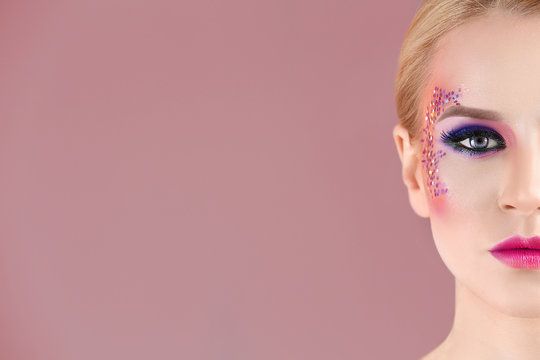 Frequently Asked Questions about Using Glitter Eyeshadow
Frequently Asked Questions about Using Glitter Eyeshadow**
Glitter eyeshadow can be intimidating for those who are new to the trend. Here are some frequently asked questions to help you navigate your way through using glitter eyeshadow:
Can I wear glitter eyeshadow during the day?
Absolutely! It's all about how you apply it. Use a light hand and stick to neutral shades for a subtle daytime look.
How do I prevent fallout?
Use an eye primer before applying glitter eyeshadow. This will help the shadow adhere to your lids and prevent fallout.
Can I use glitter eyeshadow if I have sensitive eyes?
It's best to do a patch test first before applying glitter eyeshadow all over your lids. Look for formulas that are labeled as hypoallergenic or ophthalmologist-tested.
How do I remove glitter eyeshadow?
Use an oil-based makeup remover to gently wipe away the glitter particles. Avoid rubbing or tugging at your eyes.
Remember, practice makes perfect when it comes to using glitter eyeshadow. Don't be afraid to experiment with different shades and techniques until you find what works best for you!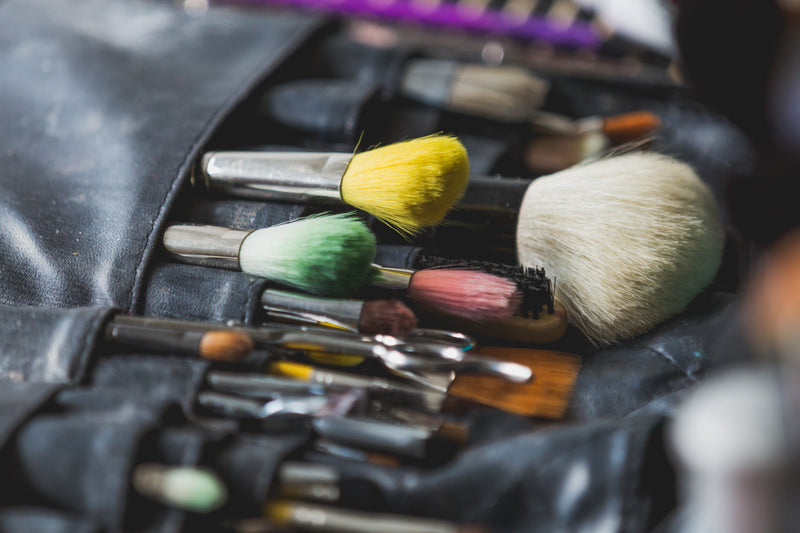 The Dos and Don'ts of Wearing Glamorous Eye Makeup
Dos and Don'ts of Wearing Glamorous Eye Makeup
Do start with a clean canvas. Make sure your eyelids are free from any dirt or oil before applying glitter eyeshadow. This will help the shadow adhere better and last longer.
Don't forget to use an eye primer. A good eye primer will not only help your glitter eyeshadow stay put, but it will also prevent creasing and smudging.
Do use a light hand when applying glitter eyeshadow. Start with a small amount and build up as needed. It's easier to add more than to remove excess.
Don't apply glitter eyeshadow all the way up to your eyebrows. This can look overdone and unnatural. Instead, focus on the lid and blend upwards towards the crease.
Do pair glitter eyeshadow with neutral or matte shades to balance out the look. This will prevent your eyes from looking too busy or overwhelming.
Don't forget to blend, blend, blend! Blending is key when it comes to creating a seamless, professional-looking eye makeup look.
Remember these dos and don'ts when wearing glitter eyeshadow for a flawless and glamorous look that lasts all day or night!
Glitz and Glamor: Our Favorite Celebrities Rocking the Trend
Bold Phrases: celebrities, trend
Celebrities have always set new trends in fashion, beauty, and lifestyle. And when it comes to rocking glittery eyeshadow looks, they are no exception. From red carpets to music videos or Instagram posts, you can spot many celebs flaunting their blinged-out eyes.
Katy Perry is one of the most popular names when it comes to daring makeup styles. She has rocked everything from neon hues to gemstones on her lids with utmost ease. Similarly, Lady Gaga's love for bold eye makeup also extends to glitter eyeshadows as well. Her silver sparkly eyelids have become iconic over the years.
Other notable mentions include Beyoncé's golden smoky-eye look at Coachella that left everyone mesmerized; Rihanna's green-tinged glitter gaze at a movie premiere; and Taylor Swift's shimmery cat-eye on stage performances.
These divas prove that galglitter glitter eyeshadow is not limited to Halloween or costume parties; it's a versatile trend that can be worn all year round if done right!
In conclusion, glitter eyeshadow is a must-have in your makeup bag if you want to add some sparkle and glam to your look. With the right shade and application technique, you can create bold or subtle looks that will make your eyes pop. Remember to use a good eye primer for long-lasting wear and follow the dos and don'ts of wearing glamorous eye makeup. Whether you're matching your outfit or trying out a new trend, there's a glitter eyeshadow out there for everyone. So go ahead and experiment with different shades and techniques to find your perfect glittery look!
Related Posts